You can help transform childhoods by ensuring that at-risk children learn and develop through the Power of Play. To bring learning and development to the lives of children in Maharashtra, we welcome partnerships as a part of Corporate Social Responsibility endeavours.
Our Play Programme is geared to meet:
UN's Sustainable Development Goal of Quality Education
India's National Education Policy by mainstreaming play-based learning
We have grown our Play programme presence to 12 districts across Maharashtra, India. It has successfully helped at-risk children develop greater cognitive, critical thinking and socio-emotional skills.
Children actively learning through play every day
Teachers trained as Play facilitators
Public and private partners
We have a streamlined system to monitor and evaluate the impact of our Play programmes. Alongside quantitative data that helps to monitor the scale of our work, we give special focus to the life-changing stories behind this data. 
Every partner receives regular updates with data and impacts stories from the field that ensures complete transparency in fund utilisation.
Toybank's 3-year impact study with over 8,000 children shows how play changed children's lives in Mumbai's urban informal settlements.
Primary And Secondary Children ( April 2017 - March 2020)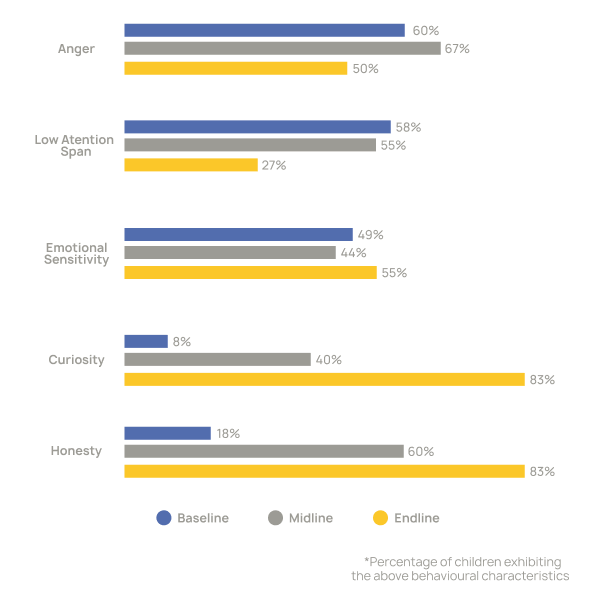 Fund Our Play2Learn Centres
By funding our Play2Learn centres, you can support children's development through play-based learning while aligning with education initiatives, including India's National Education Policy 2020. Additionally, our programmes offer a flexible approach to CSR, allowing corporate partners to tailor their support to specific goals while making a tangible difference in the lives of children and communities.

Encourage your employees to volunteer with Toybank and engage with children through our play programmes based on their availability, skills, and interests. Our volunteer engagement team matches the opportunities with your employees. Before beginning, we provide sensitisation sessions to corporate volunteers to talk about the importance of Play and how our work is critical for children's overall well-being and growth.
Encouraging Payroll Giving for Toybank is an easy and effective way to support our cause. Employees can donate a small portion of their monthly salary to help create safe and inclusive spaces for at-risk children to play and learn. This regular contribution will help us sustain our programmes and reach out to more children. As a corporate, you can multiply employee giving through a matching grant.
Lace up for a cause and ensure children their Right to play! Participate in events like runs or marathons for Toybank and help ensure more children learn and develop through our Play programmes.
Given space constraints in Mumbai, Toybank's approach lets us partner with them to engage with at-risk children playfully.

–  Nikita Mascarenhas Executive Director, Morgan Stanley India.
"Toybank will be a game changer to ensure every child's right to play." Hear from Arun Yedery, Morgan Stanley India on why he believes volunteering for Toybank has been enriching for him.